I used to watch Jon and Kate Plus 8.
Before their family exploded due to the combustible nature of fame and responsibility, I liked to watch two regular people try to cope with a very irregular family. I didn't begrudge them the free trips and substantial salaries they received due to their show. I knew that if I was in the same position I would want the same assistance.
Unfortunately, that assistance isn't provided to every family of multiples.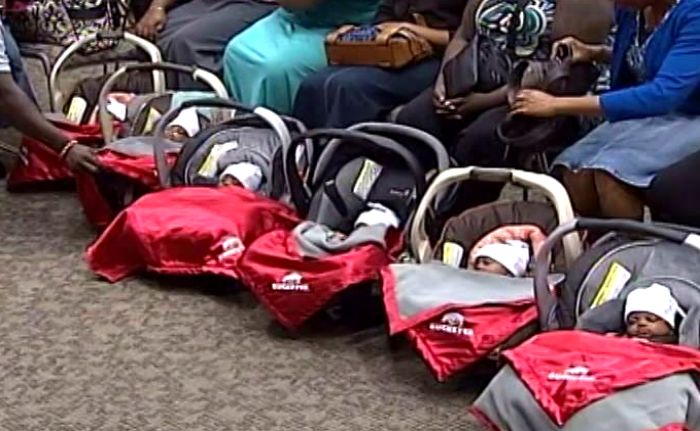 That's a picture of the McGhee sextuplets, a group of six brothers and sisters born to an Ohio family. For those of you unfamiliar with the cost of car seats, what you're looking at in that picture is about $300 to $500 worth of equipment. Yeah, having babies is hard on your pockets.
I understand that nobody forced this couple to take fertility drugs, or refuse to "reduce" the number of babies they had in utero. (That has to be the worst euphemism I've every heard for abortion. Easily.) It makes sense that if two adults decide they want to get pregnant with multiple babies, they need to make some arrangements to take care of those children on their own. I understand, and support that logic.
That said, I know that there seems to be different attitudes about different multiples. Some families are greeted with appreciation and television deals, while others, like the Octomom and McGhees, are greeted with scorn or indifference. It's the same "miracle" but it seems like folks don't feel as enthralled with every bevy of babies.
Truthfully, I guess that's people's choice. There is no law saying that you have to gawk and support every family that exponentially increases. Yet, it still leaves me with a strange feeling. I have no proof, or statistics to back up my feelings, but I still feel like something is wrong.
I wonder if the indifference to the McGhee's plight is because their family doesn't meet the "cute" criteria or because people just don't feel like this extra large family of black folks is worthy of help? Do companies feel like it's not a worthwhile investment to give these kids free swag, or do schools think it doesn't help their profile to offer them free college tuition?
Those are all freebies that countless other multiples have received, but they've been absent for the McGhees. Is the recession to blame, or is it just a convenient excuse to hide behind? Maybe people no longer consider multiples special, although I do know that another white family just got a new deal with TLC to replace Jon and Kate. Are the McGhee's a victim of circumstance, or just another entry on the crowded log of discrimination in America?
I don't know for sure, but I know which way I'm leaning.
Share